(no subject)
My new picnic hamper has arrived!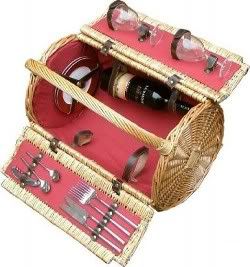 Now all I need to do is christen it. Unfortunately, the weather looks to take a turn for the worse. Just bloody typical. Hopefully it will improve again for my birthday.
The menu so far:
Peanut-coated Chicken Drumsticks
Nicoise bread (quail's eggs, green beans, tuna, olives...)
Fritatta with chorizo
Mixed Salad with Vinaigrette
Avocado and Sweetcorn Salsa
Crusty bread
Marinated Olives (or maybe tapenade)
Cheese
Pate
Crackers
Shortbread Tartlets filled with Lemon Cream and Strawberries
Fruit Salad
Dundee Cake or Gingerbread
I'm not sure about fruit salad; I was thinking mango, strawberry, passionfruit and kiwi, which would be gorgeous, but would require bowls.
I've made the drumsticks, a similar fritatta, and shortbread tartlets before for picnics, and they worked wonderfully.
I originally planned to make pan bagnat (tuna, olives, tomato, lettuce in a pressed ciabatta sandwich) but then the nicoise bread sort of replaced it. I'm planning to make the bread in a deep cake tin, in eight segments that will tear easily, removing the need for a bread knife. It was a bit of a toss up between nicoise bread and a bread with tomato and chorizo in, but there's chorizo in the fritatta.
The crusty bread, crackers, cheese, pate and marinated olives I'll buy on the day, from the Fine Cheese Co (Walcot Street), the cheesemongers in Quiet Street (someone and Paxley) and the Guildhall Delicatessen. So there's not
too
much to cook on the day, provided I'm organised. Like hell.
And then off we'll all toddle to Henrietta Park and gorge ourselves on all the lovely food, washed down by champagne, Buck's Fizz, a little wine, plenty of Pimm's, ginger beer and probably no small amount of beer.
Then we will repair to our respective houses and get ready for the evening, when we will dine somewhere (probably Cafe Uno by the riverside) then off to a club until by birthday has been over for several hours.
I'll get back, sleep for a few hours, until my parents arrive, when I belated realise the kitchen is a tip. We'll go off out to Sunday Lunch (at the Crystal Palace I do believe) and the food will make me slightly less queasy after my alcoholic escapades the night (and day!) before. Then I will try to persuade my parents to try afternoon tea at Sally Lunn's (or maybe the Pump Rooms for a change). And by Sunday evening I will never want to eat again as long as I live. Well, for a few hours.
Comments {1}